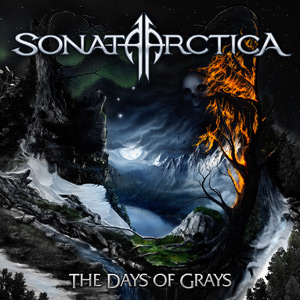 ザ・デイズ・オヴ・グレイズ(初回限定盤)
収録曲:
Everything Fades to Gray (instrumental)
Deathaura
The Last Amazing Grays
Flag In The Ground
Breathing
Zeroes
The Dead Skin
Juliet
No Dream Can Heal A Broken Heart
As If The World Wasn't Ending
The Truth Is Out There
Everything Fades To Gray (full version)
In The Dark*
Nothing More**
In My Eyes You're A Giant***

* 欧州盤 2 枚組デジパック、2 枚組 LP および Nuclear Blast メールオーダー盤ボーナストラック
** 日本盤ボーナストラック
*** 日本盤&北米盤ボーナストラック

欧州盤 2 枚組ボーナスオーケストラトラック:

1. Deathaura
2. The Last Amazing Grays
3. Flag In The Ground
4. Juliet
5. As If The World Wasn't Ending
6. The Truth Is Out There
7. In The Dark

2 枚組 LP ボーナスオーケストラトラック:

1. The Last Amazing Grays
2. Flag In The Ground
3. Juliet
4. As If The World Wasn't Ending
5. The Truth Is Out There

初回限定二本盤ボーナスライブ CD "Live In Europe" 収録曲:

1. Paid In Full
2. Black Sheep
3. Draw Me
4. It Won't Fade
5. Replica
6. Don't Say A Word
メンバー:
Tony Kakko - Vocals, Keyboards
Elias Viljanen - Guitars
Henrik Klingenberg - Keyboards, Hammond
Tommy Portimo - Drums
Marko Paasikoski - Bass

追加情報:
All songs written by Tony Kakko except "Nothing More" by Henrik Klingenberg.
Songs arranged by Tony Kakko & Sonata Arctica.

Cellos played and arranged by Perttu Kivilaakso on "Everything Fades to Gray", "In My Eyes You're A Giant", "Zeroes" and "The Truth Is Out There",
appears courtesy of Sony Music. Recorded at RockVallery-Studios, Finland, engineered by mr. P. Rockvallery.

Female vocals on "Deathaura" and "No Dream Can Heal a Broken Heart" by Johanna Kurkela appears courtesy of Warner Music. Recorded at Great Sounds Studio by Kime Klemettinen.

Orchestral arrangements by Mikko P. Mustonen.

Drums and bass recorded at Tico Tico Studio by Ahti Kortelainen.
Guitars recorded at Fantom Studios by Samu Oittinen and at Magic 7-Studios by Elias.
Keyboards recorded at Lanceland 2 by Henrik and at Kakkos-studio by Tony.
Hammond organ recorded at Studio 57 by Pasi Kauppinen.
Vocals recorded at Kakkos-studio by Tony K.

Mixed at Finnvox Studios by Mikko Karmila, in June 2009.
Mastered at Chartmakers by Svants Forsbäck, in June 2009.
Album illustration by Inferi / Janne & Gina Pitkänen
Band photography by Toni Härkönen.
Produced by Tony Kakko & Sonata Arctica 2009.